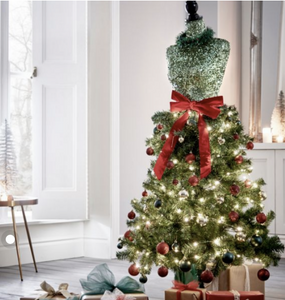 Festive Fashion Inspiration
Happy Friday!
We hope you have enjoyed your cosy week catching up on all of those film recommendations (you are most welcome). Now it's time to shed a little light on how you can channel the looks of the stars through your own outfits this festive season with five ways to freshen up your winter wardrobe.
Yes, that's right, the 'ugly' Christmas jumper has become one of the biggest trends of the season and despite the atrocious look of many, we still chose to love and honour the tradition year on year. Of course, I don't have to tell you that EVERYONE should own a garish Christmas outfit but here are some products which help us share the bright patterns and bold prints in a slightly more stylish and subtle way:
https://www.eldimaafashion.com/collections/dresses
The Garish Colour Spectrum
The Grinch, Santa Claus, that cute little octopus from Love Actually's nativity; we see vivid colours plastered everywhere from trees to the neighbour's 'tasteful' light displays at Christmas time. Colours are feared by us all I don't doubt, yet we absolutely should be able to let the spirit of Christmas shine in our outfit choices. Don't worry, you don't have to paint yourself green and go out looking like this:
Instead, we much prefer styling some of these into our outfits to spread the joy;  
https://www.eldimaafashion.com/collections/mens-t-shirts/products/african-men-shirt-pant-set-2-pieces
White Christmas
You can never go wrong with a little monochrome dress, or a good suit and tie for that matter. Christmas time can also be for elegance and minimalism. We don't always need to be bright to be noticed and that dressing sharp is the ultimate fashion statement during the festivities and with this past year of lounging in our work-from-home pyjama suits it's about time we got a little bit fancy.
Yes, we know it's scary, and heels? Well, that is a memory no one wants to re-visit. Trust me though, if you spend some time and treat yourself like the true lady or gentleman you are, you might just start to believe it too.
Dressing well doesn't need to be difficult with the right pieces and simple pairings; try a simple outfit with a striking bow tie or statement necklace. After all, if you can't dress up at Christmas, when can you?
It would hardly be a post about Christmas without the star of the show. As bold and intimidating as we may find it, red is of course the staple colour for the season. Harness the confidence of our beloved St Nick, the ultimate fashion icon I'm sure you'll agree and get yourself noticed. No need to go all out in a scarlet jumpsuit, a little rouge goes a long way. If you want to make an impact in an effortless way our tips our to pop on a red lip, layer your statement colour under your parka for an effective contrast.
https://www.eldimaafashion.com/collections/jewels/products/gold-and-red-necklace-by-eldimaa-fashion
Baby it's cold outside
Snow or no snow there is definitely a chill in the air and socialising outdoors means we need to work on our exterior look more than ever. That crisp December chill making our toes tingly gives the perfect excuse to embrace the outerwear. Just because we have to wear overcoats every day doesn't mean we should be limited or hide our true style! Go for a bold accessory, liven up that dreaded face mask and express yourself this winter, whatever the weather.
https://www.eldimaafashion.com/collections/kids-t-shirts/products/black-kids-african-print-ankara-bomber-jacket
Let us know what your inspiration is this holiday season! Make sure to tag us in your posts at https://www.instagram.com/eldimaafashion/. 
Explore the site for more inspiration and remember we have a bespoke service too, the perfect Christmas gift to end a bizarre year. 
Sign up to our email list to be updated with our latest discounts and new collections. Visit 
www.eldimaafashion.com
 for more information.
---