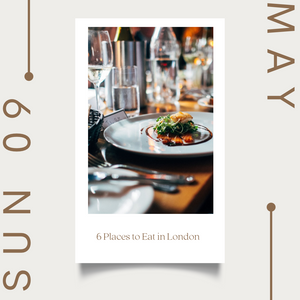 Lockdown Easing: 6 Places to Eat in London from May 17th
With Monday 17th May fast approaching, we can really start looking forward to the next phase of lockdown easing in England. On the 17th May lockdown rules are going to change slightly as England faces the next stage on the roadmap out of lockdown. From the 17th May COVID rules are loosened to enable you to meet indoors in groups of 6 or as two households meaning that restaurants, bars and pubs are finally allowed to reopen their doors and let customers dine inside. With the weather we've been having recently, it will be a welcome opportunity for diners, but with so much time passing since we were last able to meet up for a meal indoors, it can be difficult to decide where to head to first.
Here at Eldimaa Fashion we thought we'd give you a hand, with our list of 6 places to eat in London. 
Bōkan
 Located in Canary Wharf, Bōkan is spread across three floors with stunning views of the city. The venue is split into three different sections Bōkan 37, the restaurant, Bōkan 38, the bar and Bōkan 39, the roof terrace. Specialising in European cuisine, there is something for everyone at Bōkan, offering high quality meals in a variety of options, from specialised tasting menus to set menus and more. The menus stay up to date with seasonal produce, ensuring the freshest plates available to compliment the beautiful views.
Cafe Murano 
When Michelin star chef Angela Hartnett sets her mind to something, you know it's going to be special.
Cafe Murano
, Hartnett's Italian restaurant is a must visit for any lover of Italian cuisine. With seasonal flavours and authentic Italian dishes, Cafe Murano's ever changing menu packs a serious punch of flavour, their fresh pasta dishes in particular are equal parts fine dining and comforting. With an incredibly reasonably priced menu and the choice of smaller portions, this is a great choice of restaurant, with venues dotted across the city.
The Churchill Arms
Whilst you may not have ever been to The Churchill Arms in Kensington, you've no doubt heard of it, the beautiful pub and restaurant being dubbed London's most colourful pub thanks to its exuberant floral displays. A twist on the traditional pub, The Churchill Arms serves authentic regional Thai dishes, the highly skilled chefs serving up family recipes that have been handed down through generations, to provide a menu packed with a punch of flavour in the prettiest surroundings.
Enish 
With success throughout London and in Dubai, it's no wonder people are talking about Enish Restaurant, serving a diverse range of Authentic Nigerian cuisine with their own special Enish twist. Famed for its delicious food and atmosphere, Enish is so much more than just a restaurant, their special events and array of drinks making it the perfect place to go with friends and family alike. Loved by the likes of Anthony Joshua, Enish is a must visit, their reasonably priced and incredibly varied menu meaning there is something for everyone, for all tastes and dietary requirements.
Lobos Tapas
Tapas is the ideal meal if you're meeting up with a group of friends or family. The ultimate sharing meal, Lobos Tapas are experts in their field with a menu of tantalising dishes each as delicious as the next. With rich flavours of these tapas dishes, from delicate prawns to indulgent croquettes, mean there's something for everyone, and the intimate nature of tapas makes it a treat for flowing conversation, good food and delicious drinks with family and friends.
Madison
  If you're looking for food with a view, look no further than Madison London, with stunning views of London from their plethora of rooftop gardens and the mightily impressive backdrop of St Paul's Cathedral. Whether it' just for a drink or for a meal, Madison London encapsulates summer in London, the menu with its fresh, light but delicious ingredients creating a mix of classic flavour combinations and innovation to create a menu perfect for alfresco dining.
---