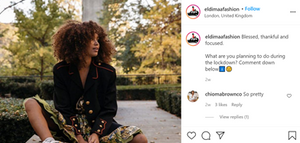 Top 10 Black Owned Businesses to Shop for Black Friday
Black Friday is coming up soon. The countdown has already started, but so has Lockdown. However, that is not going to stop us from seizing a bargain.
In 2019, the UK was expected to spend 8.56 billion pounds during the Black Friday and Cyber Monday sales.
Therefore, here are 5 black owned businesses that you would love to take advantage of this coming up black Friday.
Sancho clothing has an atmosphere of a bubbly and a lively brand. It is also home to sustainable fashion. This Black Friday and Cyber Monday make it your mission to support and stop by there incredible shop to buy fair trade, organic and recycled raw material clothing. Let this be the next trend for sustainable fashion.
After a long quarantine online shopping, why not delivery a few delicious chicken wings to reward your hard-earned bargaining spree. Drum and Flat are known for their divine chicken wings from garlic parmesan to the Buffalo wing sauces. Location wise, it is based in the iconic Box Park Wembley, or to keep yourself extra safe, get it delivered at your doorstep on Uber Eats.
Who does not love a modern twist? Well, Eldimaa Fashion brings that inspired contemporary fashion creating a fusion of African culture and British designs. They range from womenswear, menswear, kids wear and home décor. Why not revamp your wardrobe and bring your culture to life to your favourite African clothing store?
LIHA Beauty has the perfect mix of 'African roots' with a 'quintessentially British attitude' toward their branding. They explore through a wide range of natural, organic, and vegan products to make you feel fresh and reenergised. Get your soothing self-care remedies this black Friday before it is gone.
Eloise Beauty delivers high on innovation, premium makeup brushes and cosmetics that is inclusive to all skin tones. It is also 100% cruelty free, hence it's good for anyone who cares about where the raw materials come from! Check out their shop, and you will understand why getting their cosmetics is to die for.
Get your room smelling good, feeling good, and doing good to you for this upcoming black Friday! The founder of Self-made Candle, Ricki, wanted everyone to experience the impact of investing in a good, eco-friendly, and scented candle. Being able to find ways to keep on being optimistic and taking care of our mental health could help us go through this difficult time. Sometimes you just need to pop on the kettle, turn on the Netflix and light up the candles for yourself to feel good.
Staying home? Well, why not spice up your home décor to African inspired interior designs for this Christmas season coming soon. Cooper Dust home décor company adds a luxurious and handcrafted lamp to make your home from ordinary to extraordinary. If you are looking to embrace African culture in a modern way, then you better strike on this black Friday to hunt for your bargains.
A great photo is a great way to capture a memory to entice you for countless of years. CC Glam Kit brings effortless beauty to life by creating 'your own golden hour' in your photos. No big wires, just you and the lighting accentuating your highlighter to pop with power. Go collect your CC glam kit this black Friday, just in time for your Christmas party photography session!
Janet Shedu, founder, and CEO of QJS Lashes, got you covered for this  upcoming season when it comes to buying 'Quality mink' lashes. It's for you to look gorgeous effortlessness for your due to be soon events. The Black Friday arrival is almost here, therefore you can grab a hold on QJS Lashes new collections containing a rose gold tweezer, lash glue and mew growth serum for eyelash care.

Yay! New year's is coming and both owners, Khalifa and Shaun has created the notebooks for taking care of the people and the planet. So, the question is are you trying to figure out what goals to complete for the upcoming 2021 year? Do you want to start off the new year with cruelty-free dyes, recycled paper, and vegan friendly notebooks? If all of this ticks your boxes, I suppose you could grab yourself a Port West notebook for the achievers and environmental savers.
All mentions for today's blog please go check them out for this coming up Black Friday and Cyber Monday. Do not forget to check us out as we are doing a massive Black Friday weekend and Cyber Monday sale Up to 70 off everything! Sign up to our email list to be updated with our latest discounts and new collections. Visit www.eldimaafashion.com for more information.
---