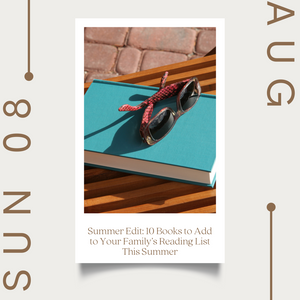 Summer Edit: 10 books to add to your family's reading list this summer
It's a classic summer past-time. Whether you are sat by the pool with a holiday book in hand, relaxing on the sofa with your latest favourite read or soaking up the sun in the garden or park with a great page-turner, books can play a huge role in the summer, for every member of the family.
For children in particular, it's important to make sure your little ones continue their reading throughout the summer, to keep them engaged and to encourage their development.
So, with that in mind, we thought we'd curate a list of some of the summer's best page turners, so that each member of the family can be inspired.
For Adults
The Thursday Murder Club - Richard Osman
Gaining fame and notoriety through day-time quiz shows, Richard Osman turned his hand to writing to pen his first novel The Thursday Murder Club. In a genre that can often be saturated, Osman's unique take on the classic crime novel has seen his debut novel become not only a hit in the UK, but around the world.
The Midnight Library - Matt Haig
Haig has been famed for his books tackling important topics surrounding mental health. A
novel about all the choices that go into a life well lived, this book has similarities to the classic movie It's a Wonderful Life, and has been well received since its publication. 
The Midnight Library has been so successful it has already been commissioned to be turned into a film. 
Why We Kneel, How We Rise - Michael Holding
An impressive sportsman who, it transpires, is an even more impressive man. Michael Holding's new book draws on stories from men and women throughout the sporting world, that offers a meaningful reflection on the history of racism today and a powerful and inspiring message of hope for the future. With contributions from the likes of Thierry Henry, Naomi Osaka, Usain Bolt and Michael Johnson, it's no wonder this book is such a powerful read.
Billy Summers - Stephen King
A world renown author, Stephen King has a proven track record at being one of the most engaging and enthralling story tellers of the modern world. His latest tale follows a killer for hire, with the classic complexity and inability to put down nature that comes with every Stephen King novel.
The Vanishing Half - Brit Bennett
Shortlisted for multiple awards including the Orwell Prize for Political Fiction, the Women's Prize for Fiction and Fiction Book of the Year, The Vanishing Half is a hit second novel for Brit Bennett. Spanning the 1950s to the 1990s the book follows two estranged sisters, and explores racial identity, family and the influence of the past.
How to Kill Your Family - Bella Mackie
Following on from her successful debut book Jog on, the Vogue journalist's new novel "How to Kill Your Family" is a laugh out loud, black satire story about family dysfunction and murder. Highly regarded as one of the best books of the year, it is a must read for those who love black satire.
For Children
You Are A Champion: How To Be The Best You Can Be -Marcus Rashford 
Could there be a better role model for a young child than Marcus Rashford? Not only has he worked tirelessly to become one of the most talented footballers of his generation, but he also has a social conscious that has seen him be named the top of The Sunday Times Giving list and be a key figure in the fight for free school meals and reading amongst children. Incredibly popular amongst children of all ages, Marcus's new book sure to be an enthralling read for any child. 
Megamonster - David Walliams
Considered the modern day Roald Dahl, David Walliams' books have been a favourite amongst children for many years, his books being adapted into tv programmes, films and plays. Megamonster is all set to be another classic, following the misadventures of a young school girl, that is sure to be a favourite with your little ones.

Girls Are Amazing: A Collection of Short Stories for Girls - Annabelle Lindgreen
With so many books oriented towards boys, Girls are amazing, with its 7 original stories aiming to encourage girls to be who they want to be, is the perfect read for the little girl in your life. Exploring themes of courage, love, happiness, mindfulness and strength, the stories inspire and empower young girls and really understands the emotions young girls go through.
For the whole family
The Boy, the Mole, the Fox and the Horse - Charlie Macksey
One for all the family, this beautiful book is one of the most gifted in the UK, with people from young children to 100 year old relatives enjoying this incredibly soulful book. Comprising of beautiful illustrations and meaningful phrases and words of encouragement, this book has been a godsend for many throughout the pandemic and beyond.
---