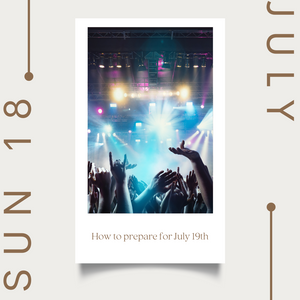 Lockdown Lifted: How to Prepare for July 19th
When the government laid out their roadmap out of lockdown plans, the final stage (June 21st and then latterly
July 19th
) seemed like eons away, but finally the end is insight, preparations are being made and it's time to start looking ahead and making our own plans.
For many of us, one of the most important aspects of our new found freedoms will undoubtedly be our clothes. Our outfits play such a defining moment in events, occasions and special memories, and as such we're all going to want to look our best as we get back to a bit of normality over the coming months. So here at Eldimaa Fashion, we've decided to compile our own, "How to Guide", to ensure you're fully prepared for the easing of lockdown and what that might bring.
Music Venues & Nightclubs
Whether you enjoy a dance in a nightclub, or you prefer heading to watch your favourite artists with your friends or partner, one of the big changes from July 19th is that music venues and nightclubs are reopening.
Having never reopened throughout the pandemic, it's safe to say a few of us may be a bit rusty when it comes to outfit preparation, so we thought we'd help out with some outfit inspiration.
Different places have different styles, different dress codes, but the one thing we can all agree is that nightclubs and music venues are HOT, so it's best to dress accordingly.
Eldimaa Suggests: Why not opt for a stylish co-ord for your first trip back to the club. Cool and easy to style, the co-ord is perfect for dressing up or down, depending on the dress code. Midriffs have made a comeback (just ask Vogue) so you'll be on trend with this gorgeous co-ord.
Festivals and Outdoor Events
Festivals and outdoor events are allowed to return, with restrictions of no more than 30 people being lifted on Monday. With the rise of festivals like Coachella, these outdoor music events have become about so much more than just the music. It's the opportunity to make a fashion statement, so why not invest in some brand new clothes for the ultimate festival vibes.
Eldimaa Suggests: Everyone loves a boho festival look, and the distinctive patterning on The Bola in Red, gives a chic bohemian nod to the classic style. Paired with a pair of shorts or a flowing skirt, this and our other versions of The Bola will be perfect for embracing that festival look.
If that's not your style, why not turn to The Folu, our beautiful range of patterned skirts perfect for elevating your outfit to a 10/10 in seconds.
 TOP TIP: The Lesedi is the perfect festival accessory, great for keeping you shaded from the sun without compromising your outfit.
Weddings
Whilst weddings have been permitted throughout various stages of lockdown, for many the idea of their big day being toned down by restrictions has been enough to see a series of postponements across the country, as couples to be keep their fingers crossed for the big wedding of their dreams. They always call this time of year wedding season, and with so many postponements, it's sure to be an even busier period for the industry, so it's best to be prepared for those RSVPs.
Eldimaa Suggests: Dresses, dresses, dresses. Here at Eldimaa Fashion, we love a good dress and we have a whole range of outfits perfect for the wedding season. The Lola in particular is a great investment, this multi-way dress providing you with six different styles all in one, meaning that you can restyle the dress for different occasions and create a completely new outfit - perfect for wedding season!
---