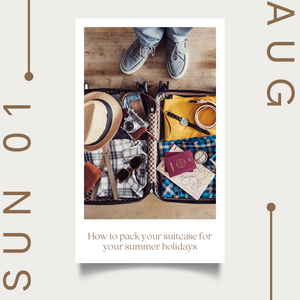 Summer Edit: How to pack for your holiday
We have all been there: summer holiday booked, tickets printed, weather forecast checked, everything is ready… you just need to pack your suitcase. The bane of everyone's holiday. You always tell yourself that this year will be different: you won't overpack, you'll only take the essentials. But, the inevitable happens, the bag won't shut, the zip won't close and you've gone over your baggage weight.
So how can you make sure this year, it doesn't happen, that this year you're more economical with you packing and that this year, you take the stress out of your least favourite task on the holiday to do list.
Be brutal
We're all the same, when it comes to packing for holiday we always fill our suitcases as though we are going away for a month rather than a week or a fortnight. Whether it's 10 pairs of shoes or more dresses than you could ever hope of wearing, you need to be much more brutal when it comes to deciding what makes it into the suitcase and what doesn't. Make piles - yes, no and maybe - to narrow down your outfit choices, and think about what outfits you'll want to wear whilst away. This doesn't mean you can't have choices, maybe just not the number of spares we usually pack!
Match
Pick items of clothing that can create different outfits. Pick a pair of shoes that goes with shorts, skirts and dresses, so you're not taking too many pairs with you that won't get worn. Pick a top that looks great with shorts, trousers and a skirt so you have three outfits in one. You can easily make a host of different outfits without changing things too dramatically.
Accessorise
Accessories are the key to completely transforming an outfit. A well styled lightweight scarf can make an outfit look completely different, whether it's fashioning it into a wrap, using it to turn your top or dress into a halter neck or styling as a belt - accessories can make an old outfit look new. Jewellery can also elevate an outfit, make a casual top or dress look ideal for going out in or wearing to a restaurant in the evening, all whilst taking up a minuscule space in your suitcase.
Buy whilst you're there
If you can afford it, whilst not buy some items whilst you're there? Think beach towels and the masses of space they take up or beach toys for your children. It may be a bit more expensive, but it saves a great deal of stress in the build up to your holiday.
---