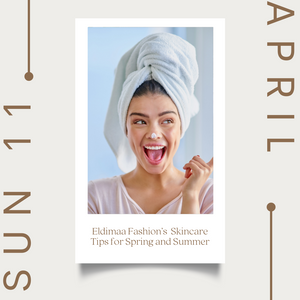 Eldimaa Fashion's Skincare Tips for Spring and Summer
Taking care of your skin is a full time pursuit, but our skincare routines differ and change throughout the year, as does our skin. Here at Eldimaa Fashion, we wanted to share some of our key skincare steps for the spring and summer months. So why not grab one of our
bonnets
or
head wraps
, put on your favourite
film
and indulge in some skincare TLC.

Sunscreen
I'm sure it comes as no surprise that sun cream is a feature of our skincare routine guide, but what you might not know is that you actually need to be wearing it a lot more than when it's a hot day. You've probably heard a lot of people talking about the importance of sun screen over the past few years, and that's for a good reason. Dermatologists have been particularly vocal about how sunscreen should be an integral part of our skincare routine, not just a go to in summer, and that we should all wear at least
SPF
15 everyday come rain or shine, to protect our skin from ultraviolet rays. They say wearing sunscreen everyday not only benefits your health, but keeps your skin looking more youthful too. Most companies have now naturally incorporated this into their
moisturisers
, so it isn't too hard to slip this into your daily routine.
Eye Care
 
One of the most neglected areas of skincare is our eyes, and if you're anything like me it really shouldn't be. There are so many glorious products to choose from, whether you want to reduce the signs of ageing or rejuvenate those dark circles, but sometimes it can be hard to know which one to choose. For example, caffeine eye cream is the
best eye cream
for dark circles, whilst Vitamin A and E based products are the best eye cream for wrinkles and fine lines. We sometimes forget how much wear and tear the skin under our eyes face everyday, so it's worth incorporating an under eye cream and a fortnightly
eye sheet mask
into your routine to maintain a youthful look and ensure your skin pops!
Face Masks
No we're not talking that type of
face mask
, we're talking all things exfoliating and moisturising. Enhancing a simple skincare routine or incorporating into your night skincare routine, face masks are an easy and relaxing way to make your skin look instantly fresher and brighter. Don't forget your trusty
skincare headband
to make sure you can brush your hair back out of the way. Our three go to face masks are:
Clay Mask
Perfect
for purifying skin, tackling blemishes and reducing redness. Leaving skin feeling clean and soft. Ideal for skincare for acne and skincare for oily skin.
Gel Mask
The ideal
mask
for plumping and moisturising, bringing an overall freshness to the skin. Including ingredients like aloe vera, this is often a great natural skincare option.
Sheet Mask
Cooling and illuminating, the
sheet mask
offers an instant glow to your skin, making it look bright, rejuvenated and well moisturised. Add this to your skincare routine for dry skin.
Face Oils
 
Face oils
aren't an essential skincare step, but they are a great way to keep your skin looking young and moisturised, especially if you suffer from dry skin. Perfect for adding to your night skincare routine, face oils lock in moisture overnight, leaving your skin soft and smooth the next morning. Why not purchase a
face roller
to really up your skincare game!
---