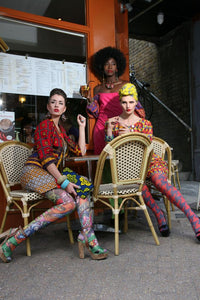 7 Inspirational Women to Celebrate on International Women's Day
At Eldimaa Fashion, empowering and celebrating the achievements of women is something that is incredibly important to us, and this International Women's Day we wanted to celebrate some of the women we have been inspired by over the past few years. The
theme for International Women's Day 2021
is "Choose to Challenge," encouraging all of us to call out inequality and to seek out and celebrate the achievements of women around the world. As Michelle Obama once said, "There is no limit to what we, as women, can accomplish," and there are so many women around the world whose success and achievements we often overlook or take for granted.
Here at Eldimaa Fashion, we know a little bit about strong women. Our founder, Elizabeth, is the epitome of everything International Women's Day is a celebration of. For those of you who have followed us for sometime, you may already be aware of
the woman behind the brand
, but those of you who are new to the world of Eldimaa may be unaware of our brand's story. A London College of Fashion Graduate, Elizabeth founded our eponymous label in 2009, which has since gone on to win multiple awards and become one of the fastest growing modern African inspired labels in the UK. What those of us who work with Elizabeth find particularly inspiring is her enthusiasm and passion, her ability to balance being a wonderful mum and building a successful business from scratch. Whilst you may never have met Elizabeth in person, her heart and soul is present in everything we do, reflecting the woman behind the label, full of joy and love, and with the kind of persona that looks to empower and inspire those she meets.
Having inspirational women, role models that we can look up to and learn from is integral at any stage of life, and supporting our fellow women and celebrating their achievements even more-so. With that in mind, we've compiled a list of seven women that we've been inspired by over the past few years and why they've inspired us.
Amanda Gorman
If Amanda Gorman isn't already on your radar, she certainly should be. The 23 year-old, who was already a figure of great significance in the literary world after being named the first ever Youth Poet Laureate, has gained international notoriety after her performance of her poem "The Hill We Climb" at President Joe Biden's inauguration ceremony. Gorman's poem, powerful and evocative, was one of the highlights of the day and reflected the perceptive and hard hitting nature of the rest of her work, her talent prompting her to be asked to perform at Super Bowl LV, the first poet to ever perform at the annual event. Gorman, like many great literary figures, has a unique way of exploring the complexities of society and history through the power of verse, her observations on race, marginalisation, feminism and oppression, giving a greater platform and voice to the struggles many have to face daily. This exceptional young woman has overcome a speech impediment, and at the age of just 23, she is making waves in the literary world, being given the recognition her talent deserves and inspiring others with her words.
Kamala Harris
There is no way that we could write about women who inspire us and not include Kamala Harris. If you're anything like us watching Harris being sworn in at the inauguration back in January was an emotional experience, and provided a moment of hope after such a difficult year. Harris serves as an inspiration, not just to young girls and boys, but adults too. She shows the world is changing. When America welcomed their first female, first Black American, and first South Asian American Vice President, there was a sense of exuberance and hope that this would be the beginning of greater diversity within the political system. Kamala Harris not only serves as, but is ready to embrace being a role model for young people around the world, hoping that she can inspire the next generation to take an interest in the world around them and to make a change. It goes without saying that Kamala Harris has had to overcome a lot to get to the point she is today, representing her country as the Vice President. The world of politics can be a very one dimensional place, and the gender and racial bias she has had to overcome makes her achievements all the more impressive.
Meghan Markle
Empathy and compassion are the words that immediately come to mind when thinking of Meghan Markle, or Meghan, Duchess of Sussex. Many forget that, prior to her marriage to Prince Harry, Markle was not only a successful actress, but a vocal advocate of a number of social issues and in particular of women's rights and empowerment. For many, Markle's story seems like a fairytale: a young woman grows up to become a successful actress, meets a prince, gets married and lives happily ever after. But as is sadly the way, life is never quite as simple, and thus perhaps the most impressive thing about Markle is her ability to stay true to herself, to be her own person with her own mind, when the world is telling her not to. When entering an age-old institution with rigid rules, it can be easy to buckle and mould yourself into the person you're expected to be, rather than the person you are. But Markle's strength of character, her determination to have her own mind and stick to her beliefs is what makes her such an impressive woman. It is no secret that the worlds of the media and social media have combined to create a toxic environment that has targeted the Duchess for her nationality, race, gender and beliefs. Markle's willingness to speak out about mental health shows the kind of woman she is, and teaches all of us, young and old, that it's okay to not be okay. Her advocacy of mental health is not something new, but it is encouraging to see a woman use her platform to discuss her own struggles with mental health, starting a conversation that has been taboo for too long, and is finally starting to be recognised.
Halima Aden 
Like so many of the inspirational women we've mentioned, Halima Aden has been breaking down barriers in the fashion world for a while now. Upon being signed to her first modelling agency, Aden made it clear that she wanted to include a section in her contract that ensured that wearing a hijab was non-negotiable in terms of any of her work. Throughout her career Aden has been unwavering in her belief that she shouldn't have to conform to society's perceived standards of who a model should be, how she should act and what she should wear to be successful. After her rise to fame in the Miss Minnesota USA pageant, she has gone on to become the first hijab-wearing model to walk in international runway shows, to star on the cover of magazines such as British Vogue, and to wear both a hijab and burkini in Sports Illustrated Swimwear. Not only has Aden become an idol, a role model to many young women, both whom wear hijabs and who are looking to follow in her footsteps to build successful careers in the modelling world, but she has also highlighted how no one should be forced to forfeit their principals and religious beliefs to be successful within the fashion industry. Aden's philosophy is one that is deeply rooted in everything she does and, whilst she has not completely turned her back on a modelling career, she has not been afraid to
step away from the industry
to make a poignant stand against working in conditions that compromised her beliefs and those of young women who are following in her footsteps. Halima Aden's conviction, is perhaps her greatest strength and something that makes her an inspiration to others who wish to emanate the young woman's success and who are unwilling to compromise their beliefs to be accepted.
Rihanna 
For those of you who follow
our social media pages
, you'll know how much we love Rihanna. From her breakout music years as a young performer, through to the successful musician, actress and entrepreneur we see today, Rihanna has always been unashamedly herself. From the get-go Rihanna has never been afraid to push the limits, to be innovative and to carve her own identity in an industry that can be incredibly formulaic and rife with repetition. That is why, eighteen years on, Rihanna is not only a major player in the music industry, but a successful entrepreneur who has branched out into the worlds of beauty and fashion. Rihanna's ambition is evident in her success and her attitude towards work,
once telling Vogue
of her Fenty Fashion House, "I know what's gone into the making of every piece," highlighting her hands on approach to each project she gets involved in. That same label shut its doors indefinitely last month as the COVID-19 pandemic meant Rihanna could only play a distant role in her label, something which has never been within her vocabulary. The musician and businesswoman pledged to relaunch the house when the conditions were right, highlighting her desire to commit herself fully to projects, rather than a half-hearted attempt at making something work. Rihanna's attitude has been integral to her success, and her achievements across industries and through her philanthropy are more than cause for celebration.
Greta Thunberg
Over the past few years, the world has started taking the issue of climate change much more seriously, and Greta Thunberg's relentless and hard hitting activism has been a key reason behind that. A vocal campaigner, Thunberg has lobbied against governments, businesses and organisations worldwide, to take climate change seriously and to educate the population on the impact we are having on our planet. First and foremost, what Greta Thunberg has achieved over the past few years is incredible, but that fete becomes even more impressive when you consider her age. At just 15, she was already campaigning outside Swedish Parliament, and her passion and newfound platform has encouraged other young people to use their voice in matters that are important to them. Often, young people can feel unheard and unseen, with governments neglecting the future voters because they're not of the age where they can make their voice heard in the polling stations. What Greta Thunberg did was show young people that they still deserve to be heard, that their opinions are important and that just because you are young, that doesn't mean you can't make a difference. Thunberg undoubtedly sparked a wave that has seen young people around the world having the belief within themselves to be more vocal, which can only be a positive thing.
Paloma Faith
Many of you will probably already be aware of Paloma Faith: the singer who shot to fame in 2009. Her debut album earned her a Brit nomination and kickstarted a career that has seen her release five albums, sell out stadiums and star as a judge on the hit ITV show The Voice. From a career perspective, Faith has been incredibly successful, but what is perhaps more impressive is her willingness to speak openly on difficult personal subjects that are often glossed over by society. If you follow Paloma Faith online or in the news, you'll be aware of Faith's pregnancy journey, from her struggles with a difficult first pregnancy and postpartum depression, to her many rounds of IVF treatment for her second child. Faith's openness and willingness to talk about her pregnancy experiences is not only incredibly brave, but also incredibly important. When people with the notoriety of Faith use their platform to discuss their own experiences, it helps women who are going through similar experiences to realise they aren't alone and gives them the confidence to speak more freely about their own experiences.
It was upon reflecting on the woman behind our brand, that we began to think about other women who have served as an inspiration to us and to women worldwide. The women we have mentioned throughout our article are just a few names in a long list of women who inspire us daily, who serve as role models and who we hope we can emulate. It's important that, alongside the famous women who serve as our role models, we remember and celebrate the women around us, friends and family, who deserve our appreciation and support. With Mother's Day on the horizon, there are many inspirational motherly figures within our lives who deserve our love and recognition at this time (and every other day) of the year. We would love for you to get in touch with us on social media, and share with us some of the women who inspire you, and who you want to celebrate this International Women's Day.
Happy International Women's Day!
---