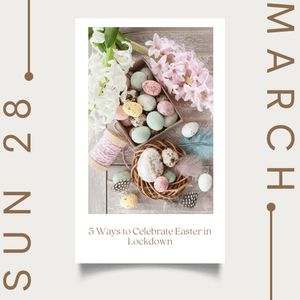 5 Ways to Celebrate Easter in Lockdown
Planning how to celebrate special events and occasions is difficult at the best of times, but with the country in lockdown and certain restrictions in place it becomes even harder. Usually the Easter weekend would be full of family visits, dinner and drinks out, and attending family events that are put on as part of the Easter holidays, but with everything on hold, we have to think a little differently about how we can make the yearly celebration fun. With that in mind, we thought we'd give you our top tips for how to celebrate Easter 2021.
Lockdown Barbecue or Picnic
That's right, as of Monday we're allowed to meet up with 5 other people or two households in public outdoor places and private gardens. With the weather picking up and spring coming into bloom, why not celebrate Easter in the garden this year with a delicious barbecue or in the park with a fancy picnic. As it's a bank holiday weekend, why not try out some funky cocktails or summer spritzers, or for a non-alcoholic alternative why not embrace the taste of spring and summer with some fruity mocktails. You and your family can get busy in the kitchen with pasta salads, tasty marinades and other delicious accompaniments to have a feast fit for the occasion. It also gives you the rare opportunity to get dressed up, be it a new summer dress or a pretty top and jeans.
Easter Baking
There's something about baking for celebrations that makes it much more exciting than everyday baking, especially for children. The shapes and colours of Easter (not to mention the chocolate) make it perfect for creating simple yet delicious bakes when cooking with kids, from chick and bunny shaped biscuits to the easy all time classic chocolate nests filled with mini eggs. A great way to spend time with your children away from screens indoors, with a great reward at the end. Or, if you fancy a challenge and a bit of me time, why not try making your own version of some traditional easter classics, from hot cross buns to simnel cake. 

Easter Family Fun Day
We've covered baking, but with children being off for the holidays, why not dedicate a whole day to fun family activities. Easter crafts is a great place to start, be it making and decorating your own baskets for an Easter egg hunt, creating Easter animals out of card, Pom poms and egg boxes or making a colourful Easter wreath. If you have or can get your hands on the supplies, you could also try making some spring jewellery, or get out the colouring pencils and paint for your very own drawing competition. Of course Easter egg hunts are always a great source of fun, but why not mix things up this year with an Easter egg treasure hunt. Write little clues and riddles for your little ones (or even not so little ones) to figure out, and pick some sneaky hiding spots around the house and garden (just don't forget where you've left them)!
Easter Exercise
With the weather getting a bit warmer and the sun coming out a bit more the Easter weekend and Easter holidays are the perfect chance to get some fresh air and stretch your legs. If you're planning on having an Easter Sunday feast, why not plan a walk with family or friends for before or after at a local park, nearby beach or lakes. This lockdown has been hard on us all physically and mentally, and it's a wonder what getting out into nature and breathing in some fresh air can do for your mental health. Why not grab a takeaway coffee or snack whilst you're at it. Equally, if you're lucky enough to have a garden that you can do so in, you could play some sport from football, cricket, rounders, netball, basketball, tennis and more; or at your local park or open green space if you're with your bubble.

Easter Movie Day
It doesn't have to be a film related to Easter, but it can be if you want! Whether it's having a chill out day as a family, a lazy day with your other half or just a solo duvet day, you can get some snacks in or tuck into the treats you've made and enjoy a film, be it something you've never seen before or one of your all time favourites. Whether it's a whole day or just a cosy movie night, get in some popcorn, tuck into your Easter egg and make some Easter themed snacks and drinks for the occasion. There are plenty of new films coming to Netflix, from family films like 'Yes Day' and coming of age films like 'Moxie', to dramas like Priyanka Chopra's 'The White Tiger' and so much more. Why not snuggle on the sofa for a well earned rest in the form of a movie day or movie night.
---