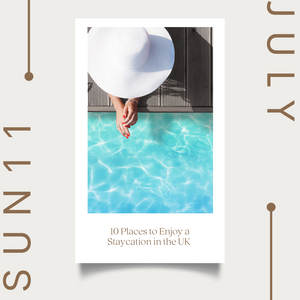 10 Places to Enjoy a Staycation in the UK
For some, summer holidays may be looking a little different this year. Whilst we all enjoy jetting off to sunnier climates, COVID and the restrictions in place have meant that holidaying abroad isn't quite as simple as it used to be. Whether you're wanting to watch your bank balance, are concerned about travelling outside the country or don't want to risk being placed on the red list, enjoying a short or long break in the UK is the perfect answer.
There's a whole host of beautiful areas and landscapes up and down the country that are the ideal staycation location, and we've compiled a list of 10 of our favourite places to give you some inspiration for a last minute getaway.
Northumberland
The county of Northumberland is a beautiful part of the country, with so much to offer whether you're visiting as a family or a couple. Bamburgh, a village in the region, has a gorgeous landscape, the impressive, looking castle serving as the perfect backdrop to the long stretch of beach. Throughout the county, there are places like Alnwick Gardens, with its spectacular tree house and the beautiful Berwick-upon-Tweed, perfect for a brief visit or a longer one. What's also great about Northumberland is how, as it borders Scotland, you can easily nip across to enjoy some of the pretty border towns and countryside.
Cornwall

There is a reason Cornwall is One of the countries most sought after holiday destinations. The beautiful region, home to some of the best beaches in the country, is famed for its glorious coastline and delicious seafood. Stretches of beaches throughout the area make it perfect for watersports such as surfing and are great for those looking for a more sport oriented holiday. Cornwall is also home to a number of tourist attractions away from the beach, including the famous Eden Project and The Lost Gardens of Heligan.
Herefordshire
Seen by many as a sleepy county, Herefordshire is actually full of beautiful parks, country homes and gardens, perfect for a relaxing holiday that embraces nature, and home to a number of family friendly events throughout the summer. With attractions such as Hampton Court (no not that one) and Hereford Cathedral, as well as a host of family parks, quaint restaurants and museums, there is plenty to keep you entertained for all lengths of stay. There is so much to love about Herefordshire itself, but what also makes it an ideal holiday location is its close proximity to other counties and cities, offering easy access to a whole host of areas.
South Wales
There are so many beautiful areas of Wales, but the south of the country, with Cardiff and Swansea, is one of the regions most popular areas. Close to Swansea you can find the beautiful Gower region filled with gorgeous beaches perfect for exploring with your family. A swathe of connected beaches and beautiful beach walks, with chances to surf, hike or merely chill on the beach, provide a idyllic location for family bonding. The area is also home to The Mumbles, a headland in Swansea Bay With a fantastic array of eateries and gorgeous views perfect for enjoying as a family.
Edinburgh
If you want to travel a little further afield to our Scottish neighbour, the wonderful city of Edinburgh is the ideal destination. From the extraordinary architecture of Edinburgh's old town, with beautiful centuries old buildings, to the infamous Arthur's Seat an extinct volcano that offers wonderful views over the city, there is so much to do and see in Edinburgh, with plenty of chances to explore the city's rich history. As well as cultural pursuits, the city is home to a plethora of family fun activities, such as World of Illusions and various tours, as well as a wide range of shops and eateries.
Norfolk

Like many of the areas mentioned in this article, Norfolk is home to some beautiful beaches, for those looking for a coastal holiday. There's the Broads National Park with its beautiful bodies of water, ideal for boating or gentle strolls, as well as the stunning East Ruston Old Vicarage Garden. There is Cromer Pier, which is brought to life through music, performers and dancing, partnered with rich and delicious seafood for which Cromer is famed for. Home to Norwich, the county of Norfolk is the perfect combination of coastal, rural and city, meaning everyday you can enjoy a new experience.
Liverpool

If you are looking for a city break outside of the capital look no further than Liverpool. For the past few decades Liverpool has been transformed into a city that is steeped in culture and opportunities. The infamous Liverpool dockland, Royal Albert Dock, underwent a period of rejuvenation which now sees it as the home of Museums, galleries and a whole host of other cultural pursuits. For younger children there are a whole host of play areas, from Inflata Nation to Bubbles World of Play, meaning that you can spread your time across a number of areas, so every family member has a great time.
Bath
Perfect for a close to home staycation, Bath is a another city that is steeped in history and culture. Be it a short weekend, long weekend, or longer stay, Bath has so much to offer for families and couples alike. Whether it's visiting the world renown Roman Baths, enjoying the local museums, or taking the Bath Skyline Walk to enjoy beautiful views of the city, you'll find there's plenty to do in the area to keep you entertained throughout your stay. Throughout the summer Bath is also home to a number of festivals and events, so you can plan your stay around these for an even more exciting stay.
Cambridge
Whilst Cambridge is perhaps most famed for its university, the beautiful city with stunning buildings and large open spaces is also an idyllic location for those looking for a staycation. With stunning botanical gardens, dreamy punting trips down the river and interesting attractions like the Museum of Zoology, the city provides the perfect location for families and/or couples.
Isle of Wight
A popular destination, the Isle of Wight is, obviously, home to a variety of beaches and coastal walks, perfect for a quite getaway with your family at one with nature and natural surroundings. Away from the coastline, is the awe inspiring Shanklin Chine, with walks down tree lined paths, where you can enjoy the beauty of the streams and waterfalls within, perfect in the daylight and even more spectacular at night, where hundreds of lights illuminate the paths. The island is also home to a variety of animal sanctuaries, harbours and mariners, and is the perfect chance to have a more relaxed, natural holiday.
---